Forex Spreads
The Spread in the Forex markets is the difference between the various buying and selling prices on offer for any particular currency pair. Before any trade becomes profitable, forex traders must first make up the spread. Lower spreads means trades move into the positive column earlier. Many traditional Market Maker forex brokers proudly advertise their low fixed forex spreads as being an advantage to forex traders.
The truth is fixed spreads do not offer any significant advantage and are subject to forex broker tactics such as widening - a tactic whereby forex brokers with dealing desks manipulate the spreads on offer to their clients when client trades move against the broker.
FXCC's ECN/STP trading model does not have a fixed spread. This means the spread on offer will accurately reflect the true buying and selling rates for a particular currency pair and ensures investors are trading forex under real forex market conditions of supply and demand.
A fixed spread may seem like a good thing when market conditions are optimal and there is heavy supply and demand. The fact is, a fixed spread remains in place even when market conditions are not the best and regardless of what the true buying and selling rates for any given currency pair are.
Our ECN/STP model provides our clients with direct access to the other Forex market participants (retail and institutional). We do not compete with our clients or even trade against them. This grants our clients more advantages over dealing desk market makers:
Very tight spreads
Better forex rates
No conflict of interest between FXCC and its clients
No limits on Scalping
No "stop-loss hunting"
FXCC strives to offer its clients the most competitive rates and spreads in the market. This is the reason we have invested heavily in establishing strong relationships with the most reputable and reliable liquidity providers. The advantage our clients have is that they enter the forex arena on the same terms as majors.
Prices are streamed from various liquidity providers to FXCC's Aggregation Engine which then selects the best BID and ASK prices from the streamed prices and posts the selected best BID/ASK prices to our clients, as illustrated in the flow diagram below.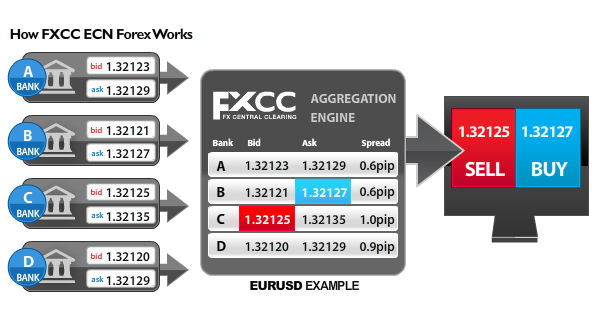 Prices are collected from our liquidity providers and the best BID/ASK prices are sorted by our aggregation engine and presented to our clients. No intervention or manipulation.
Forex trading the way you asked for.